Lewis Campbell
Great Drive To Pass
From day one, Iain put me at ease straight away. He spoke me through what would be required for both the theory and practical stages of learning to drive. The LDC books, videos and learning methods were of a great help. Iain was a great instructor and explained things really well. He was always calm and made me feel relaxed and confident when driving. At all times, I found Iain's driving methods to be excellent and he spoke me through any issues that I had and how best to sort them. Without Iain's personality and teaching methods, I don't think I would have had the confidence to pass. I would recommend Iain to everyone.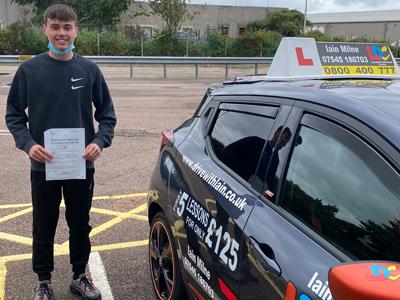 Lewis Walterson
Passed 1st Time
Iain is a very positive, encouraging instructor that creates a very relaxed atmosphere in the car and was an all round great instructor.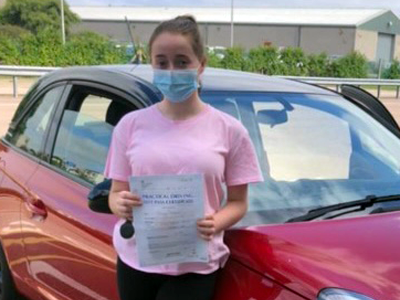 Jasmyn Dalgarno
Passed 1st Time
Iain is a great instructor. Very straightforward with instructions and easy to understand. He is very helpful, highly recommend.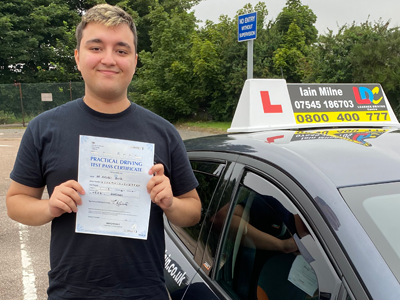 Andrei Duna
Passed 1st Time
Iain has been the best instructor I could have asked for. Very patient and very good at what he does. The LDC Workbook was very helpful, especially in the days coming to the exam.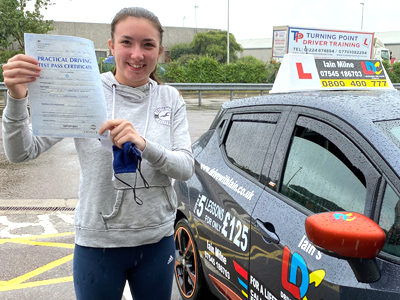 Rebekka Quin
Passed In Very Wet Weather
Iain was my only Driving Instructor but I'm more than happy that he was. He taught me everything very well and quickly and I'm very proud to have come back to the test centre to say I passed. The workbook helped me learn my 'Show Me/Tell Me' questions a lot. I'm grateful for having such an awesome instructor.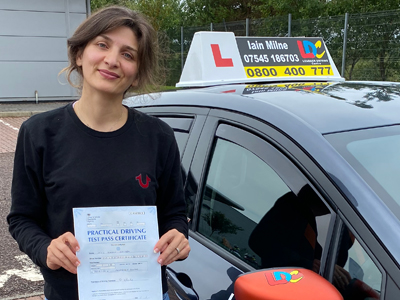 Dawn Zaiter
Passed 1st Time
Iain is an excellent instructor. After 20 lessons I was able to learn manual driving and pass my test. The instructions in the LDC Workbook has helped so much and they were easy to follow. Thanks Iain, thank you LDC. This is a happy day.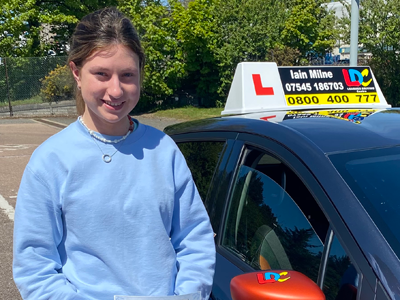 Kirsty McEwing
Really good. The LD Workbook helped with the 'Show Me/Tell Me' questions and manoeuvres. Iain helped me to gain confidence with driving and I would recommend him to others.
Brogan Coates
Very friendly and easy to talk to. Gives good feedback on what the learner can do better. Would definitely recommend.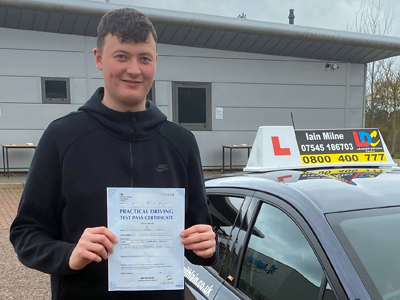 Cameron Milne
He was really helpful during the build up to my test and sorted some bad habits I had. My parking has improved so much. All in a really good teacher.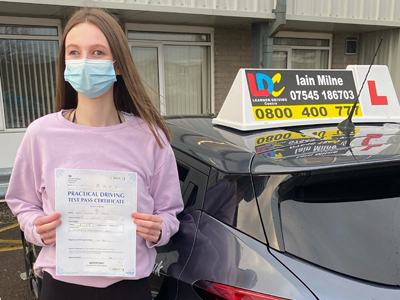 Ellie Brown
Iain is extremely patient and understanding. He made sure I had a full understanding of car controls and road rules, making sure I was fully confident before booking my test. He took the needed time to help me with anything I struggled with. The LDC book is extremely helpful and detailed, also it helped me understand the format of the test.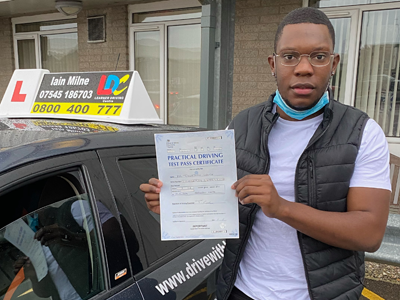 Jonathan Lengh
I found Iain to be an excellent instructor. From day one he makes you feel comfortable and relaxed, which goes a long way when learning to drive. He explains things precisely and clear and has no problem going over manoeuvres, allowing you to feel comfortable in making a mistake or asking questions. He maintains a strong level of professionalism whilst making learning to drive, a fun experience.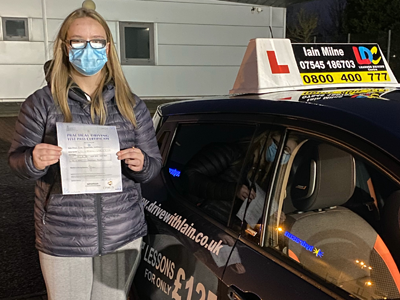 Erin Walker
Huge congratulations to Erin Walker on passing her driving test, first time, with only 8 DF's and a brilliant drive. Well done and wishing you safe driving for the future.